The solution of push notifications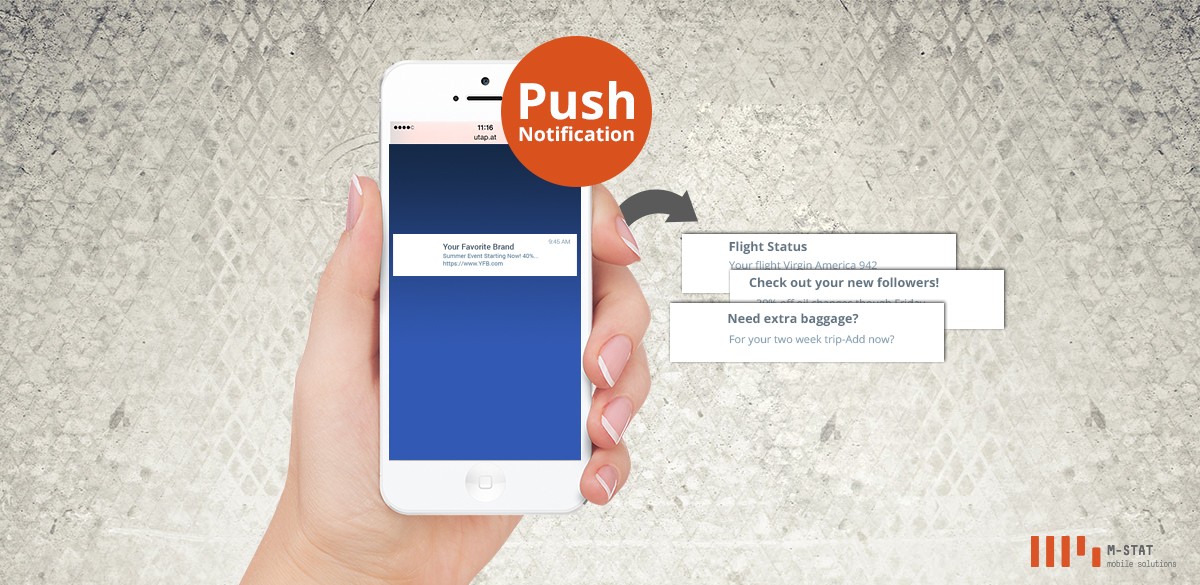 Push notifications enable brands, enterprises and marketers to send notifications directly to their target audience. To be more specific, only mobile users who have installed the mobile application of a brand can receive its push notifications. If so, brands can send relevant information to their users via push notifications, so as to inform them about upcoming events, special offers or the launch of new products/services.
It is all about real time content, which is served to mobile users easily, quickly and directly.
The good thing about push notifications is that they can help your business to engage with its customers. Even if mobile users are not connected to the mobile app, they can still receive push text messages regardless of the fact that the mobile app is closed. That means that either way, your users are going to see the notifications.
With our push notifications solution, you can:
send discreet notifications, such as "silent" push feature
send targeted messages at the right time
schedule push notification sending
download & integrate the push SDKs into your mobile apps
monitor your push notifications campaigns and optimize your push sendingsMobile users activate push notifications for different purposes. Let' sum up the most important reasons:
50% to get notified about special or exclusive offers
44% for keeping track of their orders
36% to watch brands while they are on the go
34% to receive real time alerts about sales updates and products' availability
29% to get informed about product and services news
28% to receive geo-targeted notifications