About us
Pioneering mobile solutions for local & emerging markets
Established in 2001, our company has become a major provider of value-added services in the Greek mobile market. Οur team consists of passionate mobile experts sharing a great love for new technologies and communication. We embrace the constant evolution of technology and mix innovation with market needs to deliver meaningful products. We invest in developing in-house infrastructure and strong partnerships with leading global SMS aggregators and technology providers. Through our Bulk SMS and Premium SMS gateways, Push Notifications and mobile applications we deliver custom mobile services to suit your business needs. Our product and development team can help you transform your insights into mobile products and services of real business value.

We highly respect all of our customers regardless of size and industry. For us, the exciting journey of creating a successful product starts from helping our customers discover their needs when expressing their wishes. In an agile or more traditional approach, we quickly deliver products to market and trace meaningful features for the best product experience.

Our business culture, collaborative way of working and openness to new thinking enable our teams to wear different "hats" and play various roles, while working as a team. For us, effective development requires getting all involved parties together and bridging ideas. From development options to marketing concepts and business requirements, everything is required for a brilliant product.

Learning for us equals to continuous improvement of our skills and performance. Questioning common grounds, reviewing workflows and processes, changing for the best. We empower research and communication, making it tempting for our people to share their views openly but also to take risks. We believe that company survival demands to excel in knowledge generation, adoption and exploitation.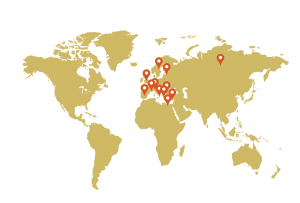 Security & Quality
We implement Data Security and Quality policies according to the ISO 27001 and ISO 9001 standards.
Reliability & Transparency
We are a licensed telecommunications provider and the only mobile messaging company with direct connections to all Greek network operators.
Innovation & Agility
We deliver pioneering products and business solutions that adhere to the latest technological developments and can be tailored to the exact needs of each project.
″

During these years, we have established a remarkable network of business partnerships with leading companies from all sectors. Together with our team, we look ahead and aim at shaping the future of mobile industry.