RCS
Shaping the future of A2P Messaging
BE PART OF THE RCS EVOLUTION
M-STAT has been selected to be among the messaging partners of Google's  Early Access Program worldwide for RCS Business Messaging, designed to enable brands to integrate RCS (Rich Communication Services) to their marketing mix. RCS takes you to the next level, enabling you to enrich your communication and transform customer journey into an entire brand new experience!
RICH COMMUNICATION SERVICES
Create stunning messaging campaigns and offer a truly interactive experience to your customers!
Through RCS you have the ability to directly interact with your target audience, by sending QR codes, tickets, coupons, current offers, product updates and many more! You also have the capability to add to each of your campaigns call to action buttons, such as "Book your seat now", "Change seat", or "Contact Airline", in order for your customers to instantly select their action and proceed with the next step. You can always track your campaigns' status in real time and check if your message has already delivered and read by your users.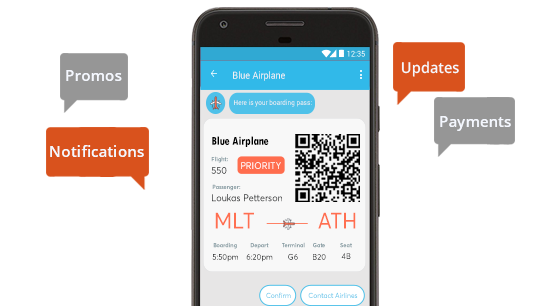 Rich Content
Send high-quality images, video, tickets, coupons, vouchers, rich card carousels and many more! Include suggested answers, call-to-actions and offer a complete experience.
Boost your conversions
Increase interactivity with your audience, generate new leads, create conversions and improve your website's click-through rates.
Location sharing
Take advantage of location-based marketing and map functionality, in order to keep your customers up to date each time they place an order and schedule a delivery.
Pre-built Messages
Enhance your SMS campaigns with pre-built rich messaging, save valuable time and instantly capture user's attention.
Chat
Ease your communication with individual or group chats and instantly share information, images, stickers, booking reservations, tickets, etc with your target audience.
Bots
Upgrade customer experience, initiate conversations and automate your marketing campaigns with RCS Bots.
Reports
Instantly check your messages' status with delivered/seen receipts and easily track your campaign's performance.
Stickers
Create highly engaged and playful campaigns through a variety of stickers and gifs according to your preferences.