M-STAT: Voted Top Tier A2P SMS Vendor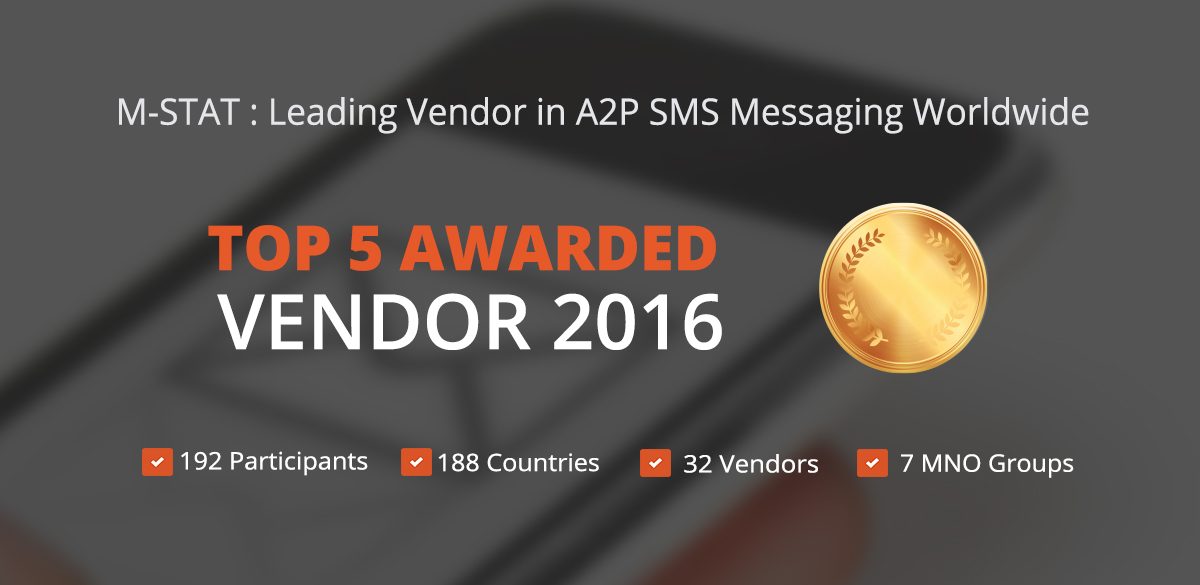 M-STAT, the leading mobile messaging company in Greece, was ranked among the top 5 most reliable SMS Messaging Vendors in 2016 Worldwide!
According to the global survey for Mobile Network Operators on A2P SMS Messaging Vendors Performance, conducted by Rocco Consulting Company, M-STAT has been rated among the leading SMS Messaging Vendors in 2016.
In the survey:
32 A2P SMS Messaging Vendors participated
192 respondents voted, representing 260 Mobile Network Operators in 188 countries
Moreover, the survey covered over 35 KPIs on performance & leadership and out of 32 vendors, only 5 made Tier 1 status.
The overall score has been created by taking all applicable MNO ratings in the criteria:
✓ Performance
✓ Performance on key A2P SMS Messaging Criteria
✓ Leadership
With more than 15 years of experience in mobile communication, M-STAT has successfully managed to distinguish in the Α2P SMS Messaging industry for its:
Value-added services
Reliability
Transparency
Expertise
Leadership
Innovation
In addition, M-STAT is the only mobile messaging company providing direct connections with all Greek mobile network operators for SMS Termination.
The survey "A2P SMS Messaging Vendor Performance 2016" has been conducted by Rocco Consulting, a company specializing in strategy, research and education in Roaming and Interconnect since 2012. The results were valid, objective and unbiased and provided Vendors and MNOs, with useful insights regarding the A2P SMS Messaging industry.
Furthermore, the survey also encourages Vendors to grow their business and compete within the global market.
M-STAT, as a leading SMS Messaging Vendor, continues to thrive and to expand its mobile messaging services to global markets, while seeking to unlock even more challenges and new business opportunities!