M-STAT in collaboration with Rakuten Viber invites you to the 1st Viber Business Messaging Webinar!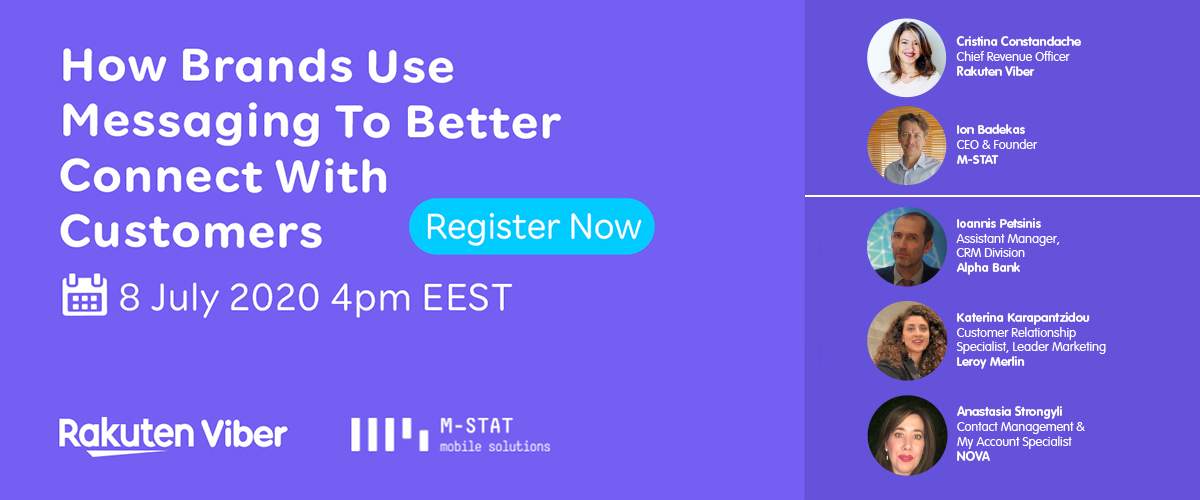 M-STAT in collaboration with Rakuten Viber is pleased to announce the 1st Viber Business Messaging webinar entitled "How brands use messaging to better connect with customers".
With the omni-channel mix forever changing, messaging apps are now an essential part of a marketer's arsenal. So how exactly can messaging your customers directly change your marketing and communications game?
As the marketing landscape shifts, smart marketers need to know how to leverage chat to grow their pipeline, drive renewals and increase customer retention.
Wednesday, 16:00 p.m., 8th of July, top executives from Rakuten Viber and M-STAT  will analyse the benefits of using Viber Business Messages for marketing campaigns, the current trends in Business Messages and best practices for high engagement, more conversions and better omni-channel customer experience.
It is worth noting that during the Webinar case studies and best practices will be presented from M-STAT partners such as: Alpha Bank, Leroy Merlin & NOVA who have successfully incorporated Viber Business Messages into their corporate communication. At the end of the Webinar, speakers will summarize the conclusions and answer the questions of the participants.
This is a unique opportunity to learn from the experts and improve your Mobile Marketing strategy, customer engagement and sales!