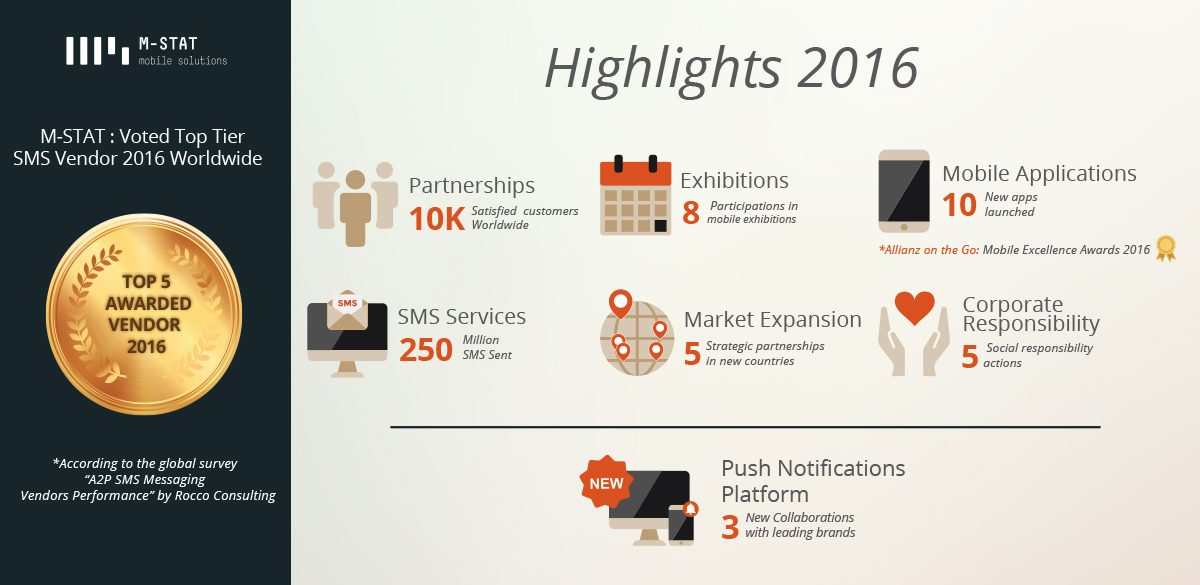 Dynamic Growth for M-STAT in 2016

New partnerships, innovative projects, important social responsibility actions and a global distinction were successfully accomplished in 2016!!
M-STAT enhanced its brand reputation both in local and international level, while also enriched furthermore its products and services with leading-edge features. Ηaving made significant progress, the company constantly evolves and has expanded its mobile marketing services to a whole new level!!
SMS Services

The most significant moment for M-STAT was its global distinction  in A2P Messaging! With more than 15 years of dynamic growth in mobile technology, M-STAT has been voted top Tier A2P SMS Vendor of 2016 by Mobile Network Operators, according to the global survey on A2P SMS Messaging Vendors Performance, conducted by ROCCO Consulting. This distinction is a result of commitment, dedication and quality work of 15 years!
Along with this global recognition, it is worth mentioning as well, that more than 250 million SMS were sent through M-STAT's messaging platforms in 2016.
Continuing its successful course, M-STAT launched the renewed version of Bulker, its advanced Bulk SMS solution, maximizing SMS experience. Bulker's website and admin panel have been totally updated with new look & feel and extra features, providing users with a seamless experience. With simple interface and smooth navigation, the platform enables brands to create engaging SMS campaigns, so as to reach their target audience directly and efficiently!
The company also launched its new feature, Rich SMS, providing brands and businesses with the opportunity to build their own landing page with rich, interactive content, such as images, coupons and videos in minutes!
Mobile Applications
Strengthening further its mobile app business unit, M-STAT within 2016 launched 10 leading-edge mobile applications in stores and started new collaborations in Greece, UK and Italy. Moreover, the company continues its strategic collaborations with well-known brands such as Allianz Greece, the leading insurance company in Greece and 24media, one of the largest media publishers in the Greek market. Allianz Greece won a silver award at Mobile Excellence Awards 2016 for the innovative mobile app, Allianz On the Go, which has developed in cooperation with M-STAT.
Push Notifications
In 2016, Μ-STAT has also launched its fully featured push notifications platform, Push My Apps, providing users with the capability to create stunning push notifications campaigns in seconds! Through the platform's advanced capabilities and features, every brand can plan and leverage effective mobile marketing strategies that drive targeted traffic, increase engagement and generate revenue! Allianz Greece, Europe Insurance, Sport24 and SchoolBus Alert have already integrated Push My Apps SDK in their applications, enabling them to set up optimized & effective campaigns based on their custom needs.
Brand Exposure: Conferences & Exhibitions
Continuing its dynamic presence and keeping up with the latest trends in the international market, M-STAT participated in 8 mobile conferences in Greece, UK, Spain and S. Africa.
Corporate Social Responsibility
Empowering its corporate social responsibility, the company fostered strong relationships with nonprofit organizations such as, Donate Hair Greece and Let's Do it Greece, enabling them to send SMS, so as to motivate their members to volunteer and take action. M-STAT, as a socially conscious company, has also completed the recycling of electric and electronic equipment in cooperation with Appliances Recycling S.A. Finally, our goal is to continue to raise environmental awareness through coordinated eco-friendly actions and activities, in order to contribute to sustainability & environmental protection.
2017 is going to be a more prosperous and creative year with new, even more challenging projects!!! Let's getting started! 🙂